Everything I've been discussing lately (here, here and here) has been leading to the sixth reason on my list of Why You Should Become An Expert. So what's this week's reason you should become an expert? If you want to monetize your expertise, even if your motivation is rooted in one of the other reasons I've talked about over the last few weeks, you've got the entrepreneurial drive. And a piece of that drive is a desire to increase your income. Becoming an expert can help you do that.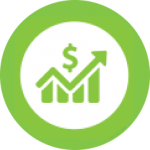 Disrupting the Norm
In an ever-changing world full of ever-changing marketplaces, accepting the status quo is the kiss of death for a business. You might be able to coast for a little while on your initial product, but as entrepreneurs, we need to be producing and innovating, or we risk getting left behind. Disrupting the norm is how we innovate. As an expert, you'll have the reputation and the audience to support new launches. Because anticipating what your target market needs (and wants) before anyone else is a risk that can pay off big.
Be Your Own Best Promoter
I've talked a little about this before, but when you promote your expertise the right way, customers will show up for you. You have to put in the work, because positioning yourself as an expert isn't a one-time action, but seeing and being seen leads to increased opportunity and increased income. With this in mind, there's rarely a reason to pass up a chance to get the word out about who you are, what you know and how your expertise can help. After all, you didn't do the work to become an expert not get noticed. And if you don't start off by promoting yourself, who will?
Delivering Your Message Efficiently
When you're selling your expertise, what you're really doing is translating the benefits of what you can provide in a way that resonates emotionally with your target market. Your knowledge is your product, and the quickest and easiest way to increase your income is deliver that message efficiently. That's why I so strongly suggest writing a book (there's a whole module on exactly this in Expert Catapult). Of course, there are other ways to do this. You can sell from stage, in on-line, evergreen webinars or even through blogs like this one. The medium is up to you!
You became an expert because you wanted to build a business on what you know. And, as an entrepreneur, you want that knowledge to increase your income. Take my advice, and go for it!
Sean