We know that when you position yourself as an expert, potential customers know you have valuable knowledge to share. And because you actually do have the knowledge, creating quality content they'll be interested in is easy. But how do you get the word out? You already have the skills and the know-how, you just need to know the right ways to promote. Today I'm sharing a few of the methods I teach in Expert Catapult.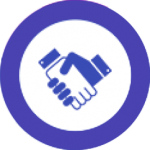 Attract Clients on Social Media
From Facebook to LinkedIn to Twitter and YouTube, social media is where the people are. Using social media makes drilling down and reaching your ideal customer easier than ever before. Direct your efforts to the channels best suited to you and your target market. Your content should be not just informative, but also fun and attention-grabbing. And social media is exponential. When your followers share your content, they join your marketing team!
Attract Clients using Video Marketing
If a picture is worth a thousand words, video is worth a million. The visual impact of videos make them undeniably more effective and persuasive than the written word. That value makes video a marketing strategy you don't want to neglect. Simple videos should be low stress and easy to produce. You don't need fancy equipment or editing software. Just a phone and a quiet spot to share your thoughts. And with your social media engine up and running, you have the perfect platform to share them.
Attract Clients to Your Website
In the good old days, your website was the foundation of your online marketing. Although that's no longer the case, you still need to optimize and maintain an effective website to showcase your best professional material and give customers a destination where they can buy. In addition to sales copy, you need informative blogs, evergreen content and downloadables that speak to the heart of what you do. If social media is the trendy avenue that catches a customer's attention, your website is where they settle in after they've been hooked.
With this three-pronged approach kicking off your marketing strategy, you'll be on your way to success. And you may even have some fun getting there!